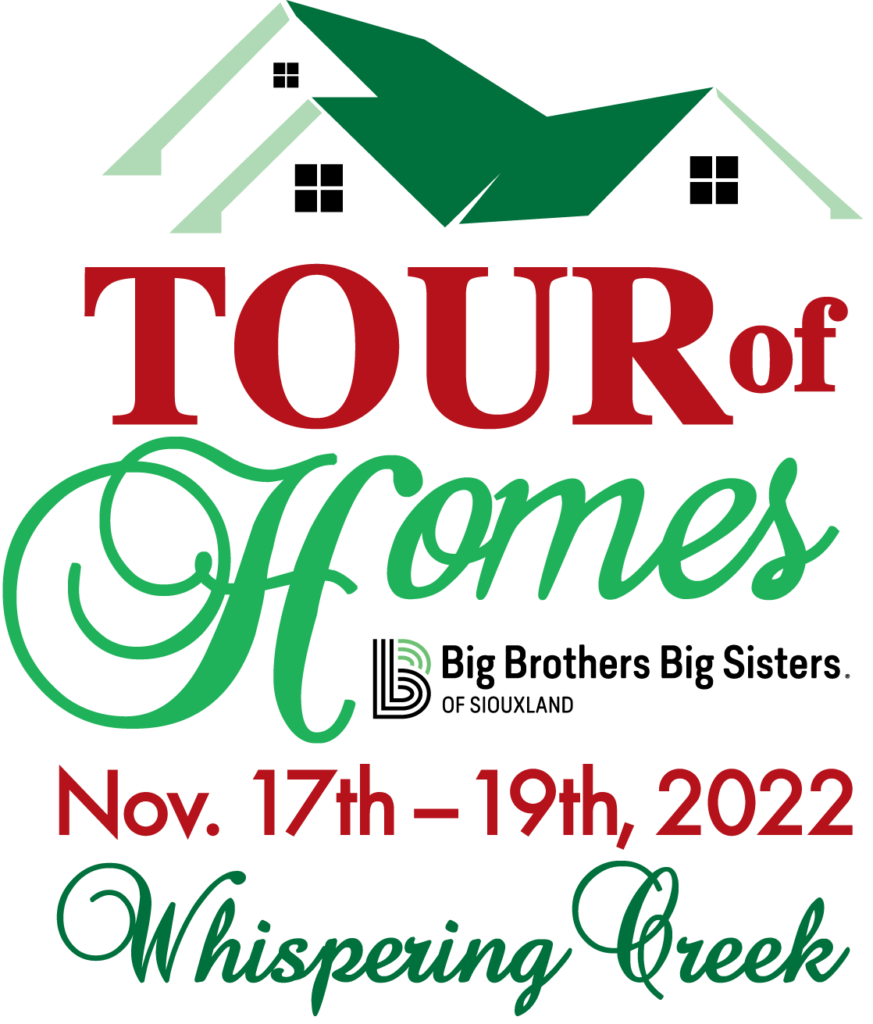 ---
Big Brothers Big Sisters is excited to announce that the 2022 Holiday Tour of Homes is back to houses!!
Download Brochure
---
Buy Tickets Here!
---
After a two-year pivot, we are excited to showcase five gorgeous, unique, spectacular homes in Whispering Creek November 17th – 19th
Homes / Designers
Steve & Kristie Drent – 6721 Prairie View Court
Designer: Dynasty Painting and Decorating – Dori Sexton
Jeff and Rachel Carlson -6701 Prairie View Court
Designer: Holland House
Brian and Angela Drent - 6700 Prairie View Court
Designer: Perry Way Bouquet - Becky Carlson and Jill Risdal and students from the SC Community Schools Career Academy Interior Design Class
Nick and Jennifer Haugen – 3410 Glen Ellen Road
Designer: Haugen Construction
Brian and Tara Wagner – 2720 Albatross Ridge
Designer: Designs by Davis
Date & Times
Thursday, November 17th 9:30 a.m. – 8:00 p.m.
Friday, November 18th 9:30 a.m. – 8:00 p.m.
Saturday, November 19th 9:30 a.m. -7:30 p.m.
A Few Things You Need to Know Before the Tour:
• Paper tickets will not be issued. Check in using your name at the door.
• The tour starts and stops at The Arena Sports Academy located at 4501 Southern Hills Drive.
• Please arrive 30 minutes prior to the start of your tour. We will begin loading the bus 10 minutes prior to your tour time. Tours will start on time.
• Tours will take approximately 2 hours.
• Please be prepared to walk indoors, and outdoors and navigate steps while on the tour. You will be asked to remove your shoes upon entering the homes.
• You must be at least 8 years old to take the tour.
• Coffee and treats will be provided prior to the start of your tour. A cash bar will also be available from 4:00 p.m. – 8:00 p.m.
• In the case of inclement weather, refunds will not be issued but because The Tour of Homes is a fundraiser, your donation is tax-deductible and appreciated.
• In the case of inclement weather, tour schedules may be adjusted. You will be notified via the phone number or email provided during ticket ordering.
Order tickets by clicking here:
Questions or to order by phone Monday – Thursday 8:00 a.m. – 6:00 p.m. - 712-226-TOUR (8687) Extension 120
One hundred percent of ticket sales benefit the children served at Big Brothers Big Sister of Siouxland. Thank you!